Spesifikasi :
Dimension
116 x 108.85 x 245 mm
Others
Height of fixture: 55~80mm
Maximum payload: 200g
Titling Angle: 320°
Rolling Angle: 320°
Panning Angle: 320°
Tilting Increments: 2°/s ~ 75°/s
Panning Increments: 3°/s ~ 150°/s
Isi Didalam Kotak:
1 x Feiyu Tech Vimble C Smartphone Gimbal
1 x USB Cable
1 x User Manual
Ulasan Feiyu Tech Vimble C 3 Axis Stabilized Smartphone Gimbal
Feiyu Vimble C merupakan gimbal terbaru dari feiyu yang didesain untuk memenuhi kebutuhan konsumer awam yang tidak ingin dipusingkan dengan sulitnya penggunaan gimbal profesional. Bentuk yang simple dan portable sehingga mudah dibawa kemana saja dan digunakan kapanpun Anda butuhkan.
Brave New Design Language
Vimble C menggunakan desain tubuh yang ergonomis sehingga sangat nyaman saat digenggam dan digunakan untuk merekam. Bentuk yang simple dan portable juga memudahkan gimbal dibawa kemana saja dan digunakan kapanpun Anda butuhkan.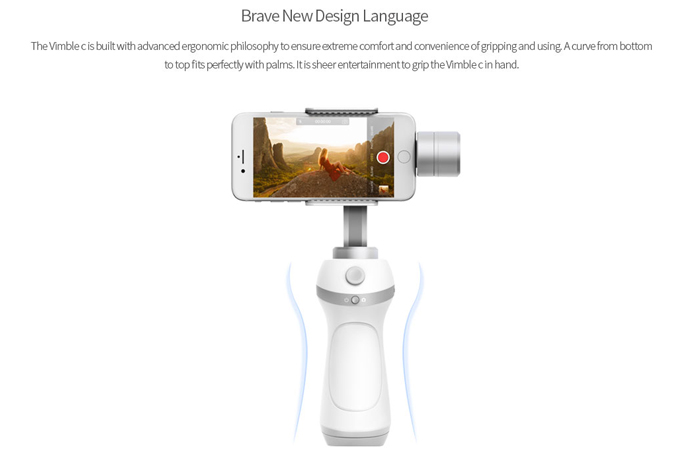 Precise Brushless Motors, Lighter but Stronger
Vimble C menggunakan teknologi motor Feiyu yang tercanggih dan terbaru. Teknologi motor ini memastikan gimbal ini dapat bekerja dengan optimal dengan algoritma G-Seriesnya. Simple untuk digunakan dan hasil rekaman terlihat seperti rekaman profesional.
Ingenious User Interface Optimized for One-handed Operation
Desain gimbal ini memudahkan Anda menggunakan gimbal hanya dengan satu tangan. Untuk mengendalikan gerakan gimbal, Anda dapat menggunakan 4-way joystick dan tombol shutter untuk memulai rekaman.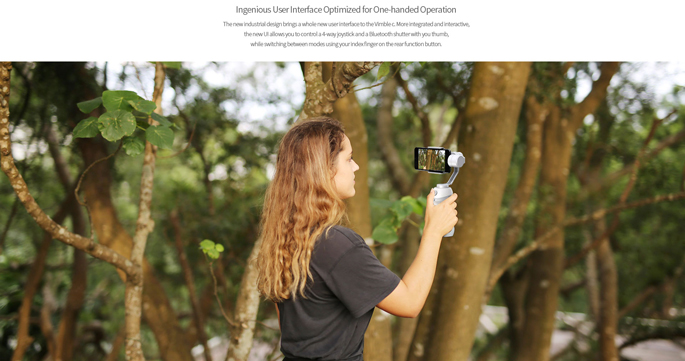 Smart Face-tracking for Endless Fun in Filming
Feiyu ON menggunakan sistem identifikasi wajah otomatis sehingga gimbal ini dapat bergerak otomatis mengikuti pergerakan wajah Anda. Anda akan serasa memiliki photografer personal yang menggerakkan  kamera sesuai dengan pergerakan Anda. Cocok untuk aktifitas vlogger.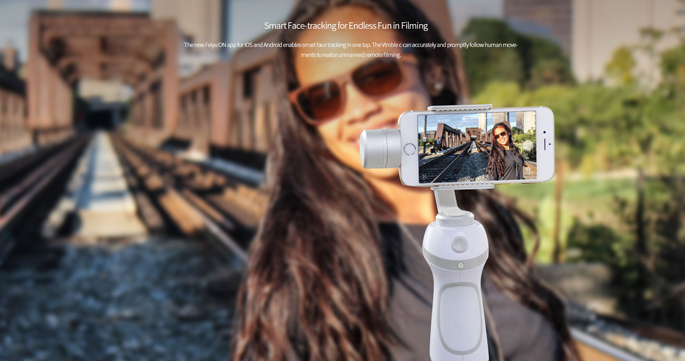 Dynamic Panorama via One Button
Menggunakan aplikasi Feiyu ON membuat Anda dapat mengambil foto panorama 360 derajat dengan mudah. Hasil foto akan terlihat bagus dan profesional

Integrated High-power Li-ion Battery for up to 5 Hours Runtime
Feiyu Vimble C menggunakan baterai li-ion integrated berkapasitas tinggi sehingga dapat menyala hingga 5 jam non stop. Untuk mengisi baterai ini juga sangat mudah hanya tinggal mencolok kabel Micro USB ke port yang tersedia pada gagang gimbal.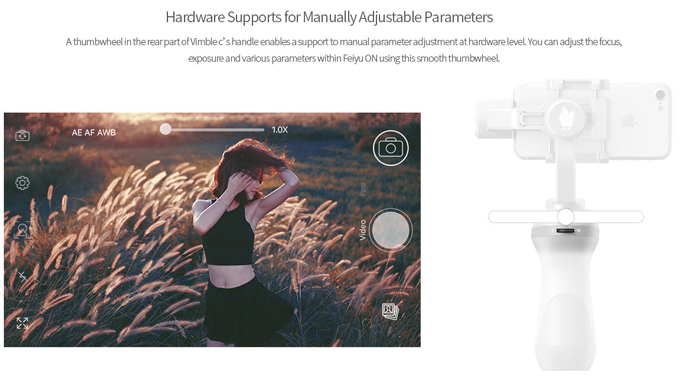 Extensive Accessories Availability
Vimble C memiliki sebuah port baut 1/4 sehingga memungkinkan Anda untuk memasang gimbal ini pada tripod.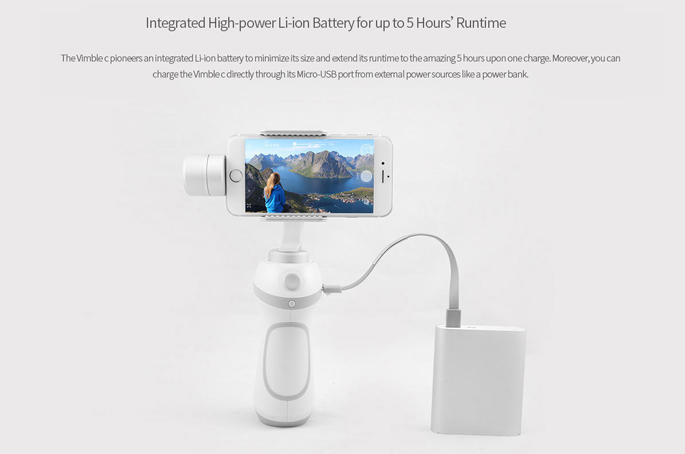 More Stable Placement on Surface
Bagian bawah gagang gimbal ini juga cukup lebar untuk bisa berdiri sendiri pada permukaan yang datar. Dengan ini Anda tidak membutuhkan tripod untuk dapat mendirikan tripod dimeja atau tempat-tempat datar lainnya.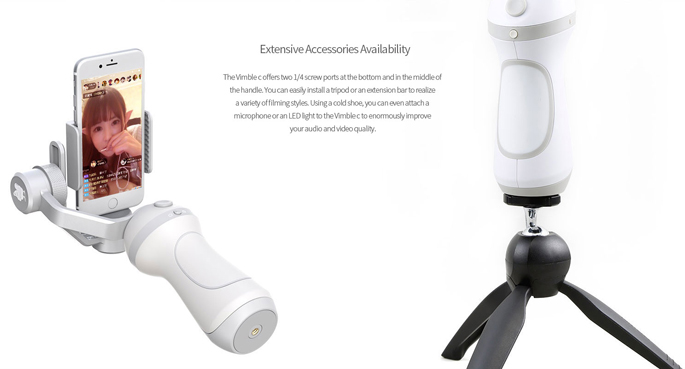 Video Ulasan :